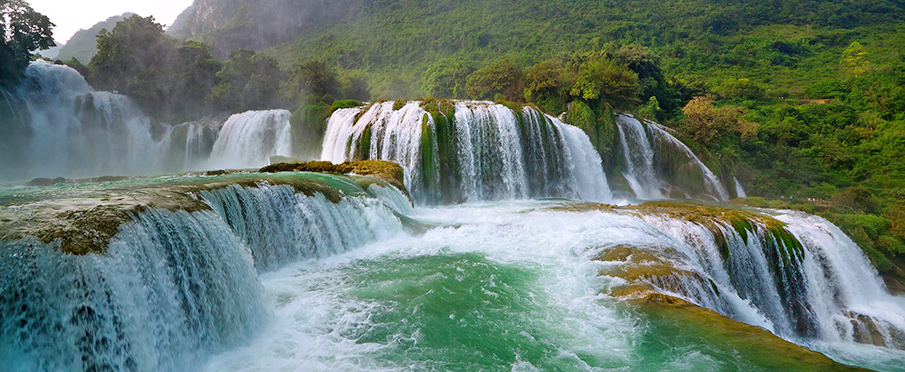 Cao Bang is one of the least populated provinces in nothern Vietnam.

Cao Bang province with its capital of the same name is bordering China on the east of northern Vietnam. In this province there are approximately 550 thousands inhabitants. A lot of people are from the ethnic groups such as. Tay, Nung, Dao and Hmong.

Practically the entire province of Cao Bang is dotted with hills and villages.

Cao Bang town was damaged at war with China in 1979 and has been rebuilt. It lies on an altitude of 300 m, so there is a very beneficial climate through the all year. Markets which are held here, belongs to the largest in northern Vietnam, so you need to visit them when you are here.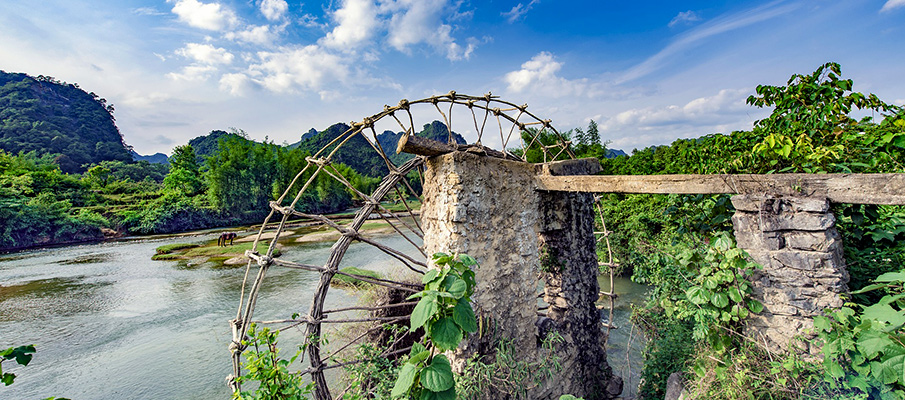 Irrigation system at the river in Cao Bang.
The area of Cao Bang is a little forgotten by foreign tourists.

Cao Bang is mainly mountainous with spectacular sceneries and suitable trails for trekking and exploring the ethnic minorities in the nearby villages of the city. In the winter, it is possible there will be snow fall and freezing conditions in the mountains of Cao Bang province, so be prepared with appropriate clothes.
Cao Bang has several important points of historical significance.

For example Pac Bo village (at the Bang Giang and Hien rivers). This is the place where Ho Chi Minh in January 1941 established a revolutionary force, it was at the Coc Bo cave. In 1920, the area has become an important cradle of the revolutionary movement in northern Vietnam. Another beautiful places in Cao Bang are Ky Sam palace, Coi Bin monastery, magnificent Ban Gioc Waterfall on the border with China and Thang Hen Mountain Lake.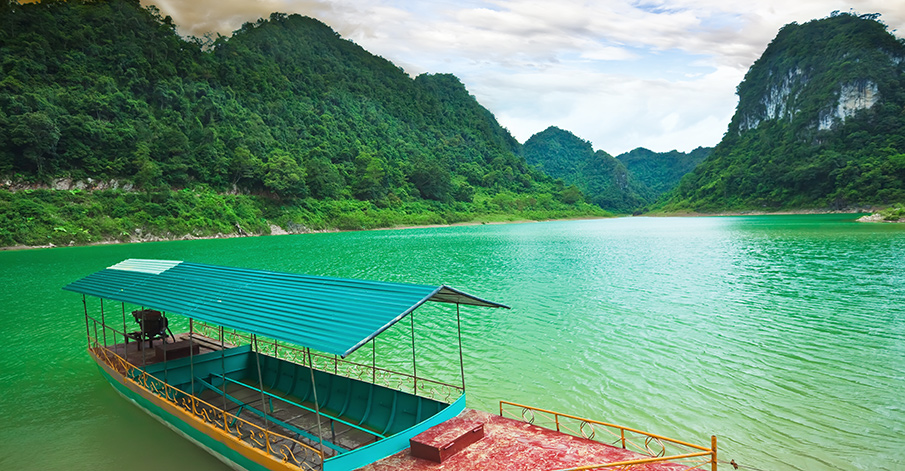 Thang Hen mountain lake in Cao Bang
Ban Gioc Waterfall is located 80 km north of Cao Bang town on the border with China. Ban Gioc Waterfall is over 200 m wide and water falls from a height of 70 m over 3 reefs. In the sunlight we can watch the seven color waterfall. The color of the water depends on the weather in this area. You can ride on a boat (bamboo rafts) and watch the waterfall directly, it is fascinating. This waterfall is the largest in Vietnam, but not the highest.
Ban Gioc is the 4th biggest waterfall in the world, which leads over the boarder.

Nearby of this waterfall you will see the Tongling Gorge canyon, accessible only through the cave. You can see here a lot of endemic plants. About 4 km from the waterfall, you can visit one of the most interesting cave systems in Vietnam – Nguoi Ngao. There is accesible 1 km long paved trail with lighting, and you can watch the huge stalactites and go in to the 100 m high chamber.
Only 20 km from the Cao Bang town is beuatiful Thang Hen mountain lake.

Thang Hen mountain lake in Tra Linh District consists of 36 small natural lakes on the hill at the height of 1,000 meters above the sea. The lakes were formed in limestone formations. Unusual phenomenon of these lakes is that the water level moves like the tide the sea. The lakes in Cao Bang form to the rivers that are bound for Ban Gioc Waterfall.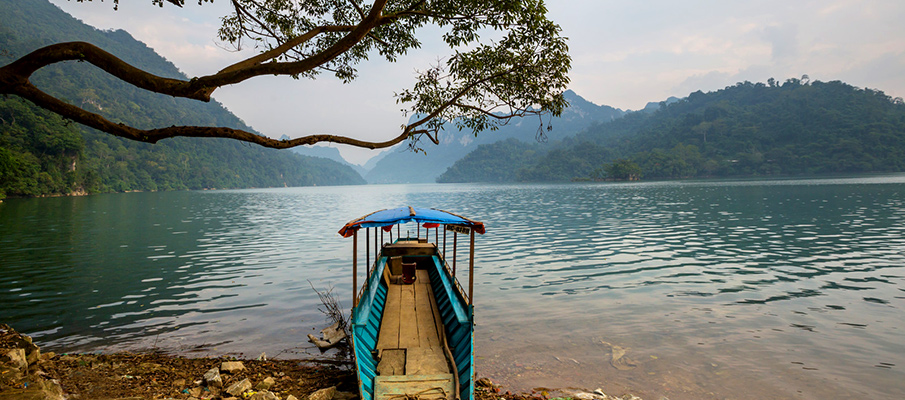 Ba Be Lake and National Park.
Ba Be National Park is a good place for trekking and homestay accommodation.

Ba Be National Park is located about 100 km west of Cao Bang town, it is already Bac Kan province. It is a place suitable for trekking and exploring ethnic local minorities. Visit some ethnic villages with residents who live here. A lot of residents are from the Dao and Tay ethnic group. Around the Ba Be Lake are several villages, with some smaller waterfalls and caves. There are a plenty of precious and endangered species that inhabit in this region. A few hotels in Ba Be National Park you will find on Agoda.
National Park Ba Be is a valuable natural heritage of Vietnam.

Ba Be Lake is composed from the three interconnected lakes and the length is about 8 kilometers. There is a possibility of boating and the opportunity to explore local caves, with the boat or without the boat. You can stay here in the homestay accommodation with the local people and try very good local food. These homestay accomodation are adapted for travelers and tourists from Vietnam.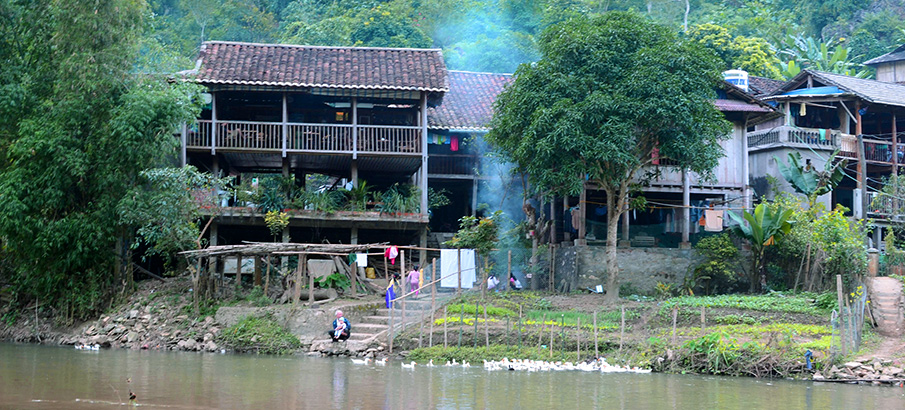 Pac Ngoi homestay (photo from Wikimedia commons, licensed under CC by 3.0)
Very good option is to try a homestay at the Tay ethnic residents in the village of Pac Ngoi. Pac Ngoi is a small village directly at the Ba Be lake on the south side of the lake. There are about 30 original buildings of Tay ethnic residents on "stilts" and there is also the possibility of accommodation. Accommodation costs for one person approximately 100 000 Vietnamese dongs.
Pac Ngoi village offers homestay with Tay ethnic residents.

The locals are happy to show you their culture, customs, offering food, or they can sit by the fire. This village is the best place to be in easy reach of the Ba Be lake. More information about the Tay ethnic group read the article – ethnic minorities of Vietnam.
How to get to Cao Bang town:
1. By bus or train from Hanoi to Lang Son town:
Appropriate choice is to take a bus or train from Hanoi (Gia Lam bus stop) to Lang Son. In Lang Son you can stay for 2-3 days and then continue by bus to the city of Cao Bang. Or you can use a train from Hanoi (Gia Lam station) to Lang Son. Use a search engine of transport links Baolau or 12go.asia, here you can buy train tickets). There is no train connection in Cao Bang province.
2. By bus from Hanoi to Cao Bang town:
There are some buses from Hanoi (My Dinh bus station) that can be used, for example HungThanhTravel company. These buses are going from Hanoi to Cao Bang town, online booking is possible, ticket price 180 000 dongs. It is better to buy a bus ticket in My Dinh bus station. You can also use this bus if you want to get in to the National Park and Ba Be lake, go to the Phu Tong town, get off here and take the bus to Cho Ra (10 km from Ba Be National Park).
How to get from Cao Bang town to Ba Be National Park:
There are 2 roads from the town of Cao Bang to the National park, it is about 130 km. From Cao Bang town goes some buses to Phu Thong (ask in the hotel or at the bus station) in Phu Tong take a local bus to Cho Ra town, it is about 20 km. Cho Ra is about 10 km from National park Ba Be, in Cho Ra take a mototaxi (Xe Om). If you have a motorbike, just you look at the map, and go of the 2 main road leading from the city of Cao Bang.
Places of Interest in Cao Bang:
• Pac Bo village (Coc Bo cave – a place where Ho Chi Minh founded the revolutionary force)
• Thang Hen Mountain Lake
• Ma Phuc pass on the road to the Ban Gioc waterfalls
• Ky Sam palace
• Ban Gioc waterfall, Nguoi Ngao caves , and Tongling Gorge canyon
• Coi Binh Monastery
• Markets in Cao Bang town
• National Park Ba Be (Dau Dang waterfall, other caves and local villages)
• homestay at National Park Ba Be
Cao Bang – map:

Where to go from Cao Bang:
You can continue to Lang Son, Ha Giang (Dong Van, Meo Vac).